It was a beautiful weekend in Kansas City! I was lucky to get out and enjoy the warm sunshine with a walk on the plaza with my sister. We even found a perfect sun-filled patio to have lunch outside! I'm definitely ready for spring now! For a casual day out and about I grabbed my comfy shoes and this super cute black and white check sweater that I have been wearing on constant repeat! Love it!
I've been inspired lately by street style and mixing athletic wear into more casual everyday looks. If you follow me on
Pinterest
you may have noticed me posting a ton of these looks lately. What inspires your style? Where do you look for fashion inspiration?
Fashion inspiration for me comes from many places, magazines or catalogs, TV shows, fashion week runways, and old movies. I challenge you this week to look around and find some fashion inspiration, try a new style! :) You can even find inspiration in your own closet! Pull some things out that you haven't worn for a while and move things around in your closet. This is an easy way to spark some ideas!
Don't forget I'd always love to help you
clean up your closet
and find inspiration in the things you already own!
Today I am linking up with the lovely ladies over on the Trend Spin Linkup!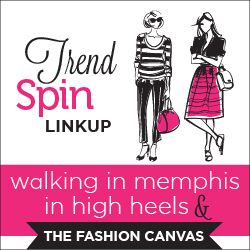 Hope you all have a great week!